Stem Cell Treatments and Doses
Stem cell therapies are currently available for the treatment of arthritis and degenerative joint disorders in dogs and cats, as well as tendon (bowed tendons) and ligament (suspensory ligament) injuries in horses. Optimum standardized doses (cell numbers) have been determined after several years of trials.
Stem Cell treatments and doses can be administered either locally (Intra-articular: IA) or systemically (Intravenous: IV). Administration is relatively simple as the doses are dispatched in syringes 'ready for injection'. Administration via IA will need an anesthetic, but IV administrations (used in dogs and cats) are simply infused in the normal manner.
Video detailing the administration of stem cells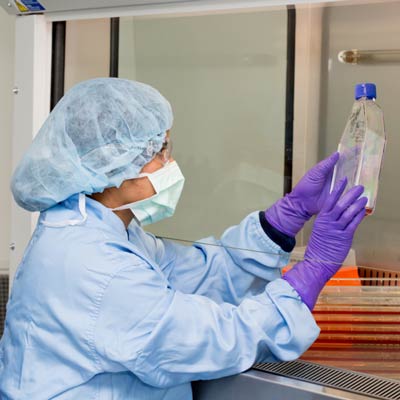 Canine – Dogs
There are two standard IA doses for canine osteoarthritis – a small dog dose (CSC5) and a large dog dose (CSC10).
There are six different IV doses based on the weight of the dog (CSC20, CSC40, CSC60, CSC90, CSC120, CSC150).
Clinical results indicate that in excess of 90% of dogs respond positively to treatment for osteoarthritis with an IA injection(s).
Feline – Cats
There is one standard IA dose for feline osteoarthritis (FSC5) and two different IV doses (FSC20, FSC40) based on the weight of the cat.
Equine – Horses
There is one standard Intra-Articular/Intra-Lesion dose for horses (EVSC20).